There are many choices you can take for your breakfast meal, and one of them is cereal. Coincidentally, today, the 6th of March is also celebrated as the National Cereal Day in the United States. Now, even though we are in Indonesia, it might not be a bad idea to celebrate the day by making unique cereal recipes that we are going to list today!
Frozen Yogurt and Cereal Cup Bites
If you or your kids are bored of eating cereal the same old way, why not make this unique cereal recipe? It is so simple that you would not need to cook anything to make it. All you need to have are slices of bananas and other fruits, Greek yogurt, and cereals. This dish is fast and easy to make, and obviously delicious! You can also pack a few as a snack in the office or for your kids on their break at school!
Cereal Breakfast Bars


If you are looking for something that is easy to eat on the go, a bowl of cereal is definitely not your number one choice. Because of that reason, our second unique cereal recipe might be what you will definitely need. To make it, all you need to have are vanilla Greek yogurt and a box of cereal. If you need additional taste, you can add in honey and some vanilla extract.
Breakfast Sushi


Sushi is a very delicious food, but some people might not be able to eat it because they have some kind of allergy to fishes, or they simply dislike them. However, this sushi is something that people with allergies could eat! After all, this sushi of ours will be using tortilla (or you can exchange it with your own homemade mini pancake) and topped with peanut butter and chocolate jam.
Frozen Banana Cereal Pops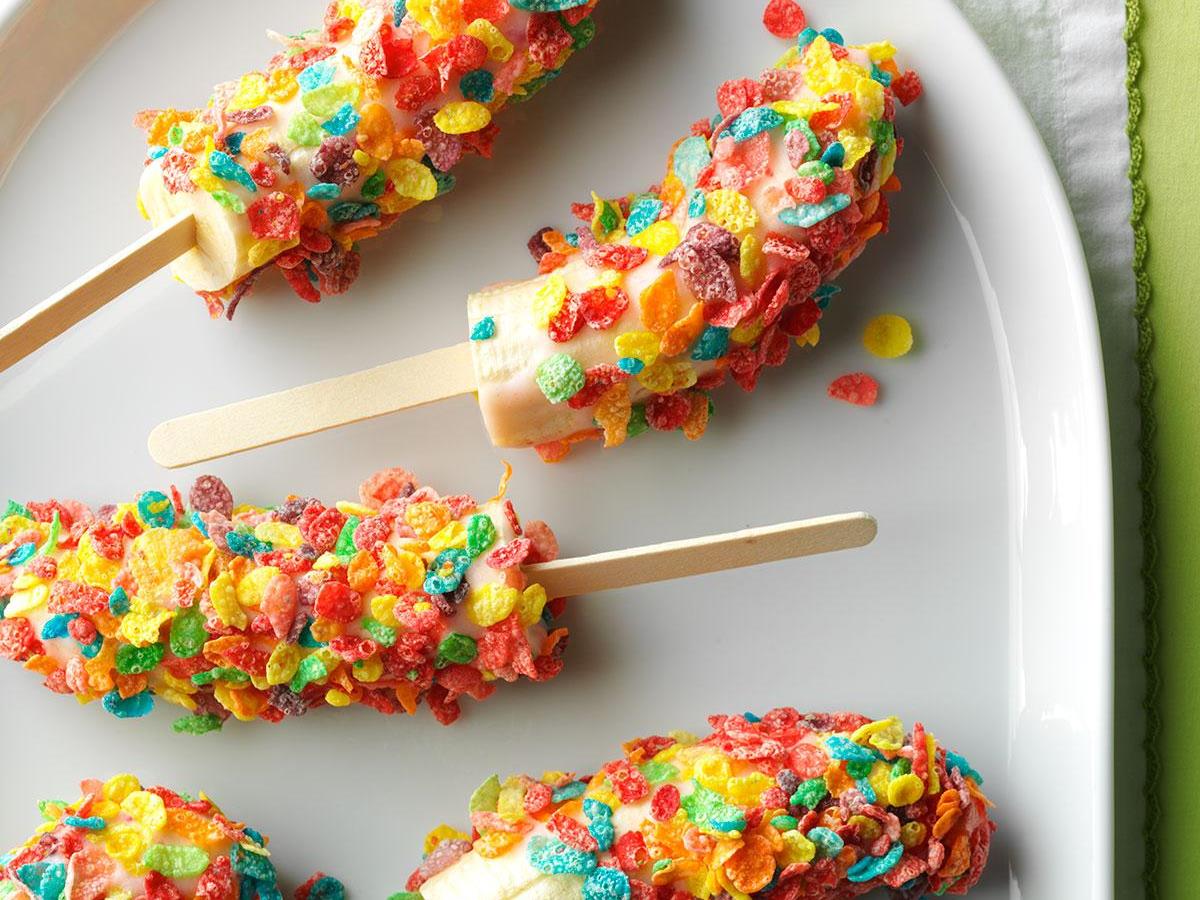 If you find the other recipes as hard to make because of the preparation, then you will definitely love this unique cereal recipe that could be made simply by cutting a banana in two and coating them with yogurt. Once you are done coating them, sprinkle some cereal on it, and put them in the freezer for about an hour. Voila! You now have a good and healthy snack you can eat anytime of the day.
Tropic Breakfast Parfait


In the mood for some fruits? Then, this unique cereal recipe is your friend. The idea is to make a healthy breakfast that is not only delicious, but also provides you with enough fibers for the day. That is why, you would need to have some tropical fruits such as fresh pineapple and mandarin oranges for this recipe.
Delicious Seven Layer Bars


Some of the time, we might want to create something that can be enjoyed by the whole family. If you are looking for that kind of thing, then the other previous recipes are definitely not the answer. However, our last unique cereal recipes might be what you are looking for. In order to make this, you need to have a dulce de leche first before you can proceed. Then, all you need is some cookies, flaked coconut, and rice cereal. Once it is done, you can have it as a family snack!