What do you usually think about—other than praying and doing good deeds—when Ramadan comes? For one of us, at least, it is the Ramadan food to eat when the time to break the fast comes! There are kolak, fritters, and not forgetting dates and mineral water. However, this time we are not going to talk about Indonesian's food, instead we will take a look at many other unique foods served in Ramadan in many places of the world!
Gullac (or Güllaç) is one of the most popular Ramadan foods to eat as dessert in Turkey. The Gullac sheet is made of starch and water, and will be soaked in sweetened milk before chilled. When you want to eat it, you can top it with pomegranates, walnut, or other toppings of your choice. The name Gullac itself is said to come from gul that means rose and as that means food. Why rose? That is because rose water used to be the main flavor in this dessert.
Qatayef is a staple if you are welcoming Ramadan, especially in the Middle East; you can also find them in Iraq, Egypt, Lebanon, Syria, Jordan, and Saudi Arabia. Many people dubbed this Ramadan food as the "pancakes of the Middle East" because it looks just like one! This dish looks like a pancake with a hole filled with cream and nuts. The name qatayef itself comes from the word qataf in Arabic that means "picking up".
Erk Soos is a traditional drink from Egypt made of licorice. To make Erk Soos, you do not need to do much; all you need is licorice roots, water, sugar or sugar cane juice to bring out the taste. All you need to do is boiling them together and serve them hot. However, if you want to make a stronger flavor, you can soak the licorice roots in water overnight and boil it once again the next day.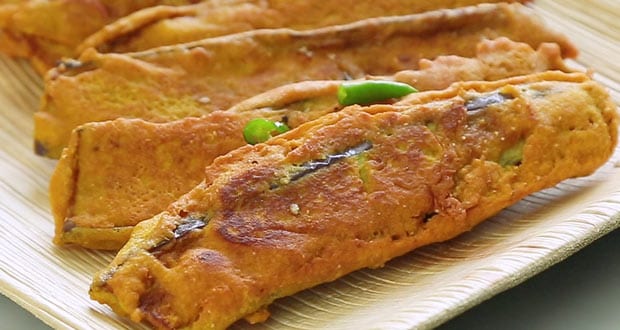 Beguni is a traditional Bengali dish and a popular street food there. However, when Ramadan comes, beguni is the must have Ramadan food on the table. Because beguni uses eggplant as its main ingredient, you can also make beguni as a way to make your kids eat eggplants if they dislike it.
While sambusa is a special food you can find all over the Middle East and Asia, it is a special Ramadan food in Yemen. There are many things you can put inside the sambus, and the meat sambusa recipe provided by Queen of Sheba is just one of many examples.
For our last Ramadan food, we are going to visit North Africa to see their traditional dish: Shakshuka. This food consists of poached eggs covered in sauce. The sauce itself is seasoned with cumin and made from the combination of tomatoes, onions, and chili peppers. The name shakshuka itself is of Arabic origin, meaning "mixed up", and we think it fits the dish very much!